We take great pride in creating the best ice experience in Connecticut....
meet the awesome people who make that all happen: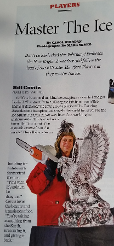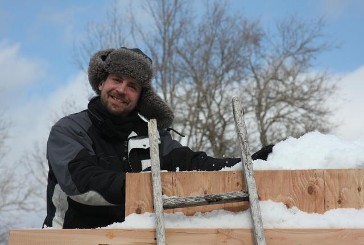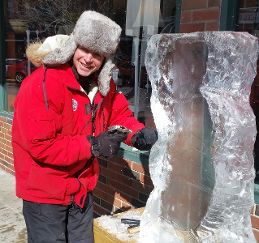 Bill Covitz is the owner of Ice Matters™, an ice carving company he opened in 1999 - however, ice was not his first calling. Bill is a former Chef and a 1991 graduate from the Culinary Institute of America in Hyde Park, New York. As a Chef, Bill spent several years working in fine dining restaurants throughout the United States, specializing in French Cuisine and also worked as a Private Chef in both France and Belgium. Fulfilled with his career as a Chef, he went looking for a new avenue to explore his artistic calling - leaving the hot kitchen for the cold freezer. Raised in Ridgefield, CT, he decided to move back to his home state and open an ice carving business. He now works in a 12 degree studio creating ice masterpieces for country clubs, hotels, banquet facilities, restaurants and individuals throughout Connecticut. At the 2004 National Ice Carving Association's Nationals he was the Grand Champion, placing first on both days of the 2-day competition. This honor was the icing on the cake for Bill as he was undefeated in local competitions for several seasons. In March of 2006 he placed second in the world at the World Ice Art Championships in Fairbanks, Alaska. In February 2009, after taking several years off from competing, he returned to the National Ice Carving Association's Nationals and placed 2nd with his Praying Mantis design....his favorite yet! Creating ice instruments on a mountain top in Norway, something he has been doing every year since January 2006, has been an exciting challenge and he hopes to continue making ice music possible in the years to come. 2013 proved to be a busy ice music travel season with a four city tour in February 2013 and a trip to Greenland with a Canadian production company in search of the perfect ice in August. At each location he made instruments for Norwegian musician, Terje Isungset to play. 2014 marked Norway's 200th year of independence and was a much celebrated event. Bill replicated buildings in ice for the Norweigan government as well as created the stage and ice instruments for the celebration. In 2015 after creating cool snow sculptures in Lilehammer, Bill created ice instruments in Geilo for the 10th annual ice music festival. In 2019 he returned to Norway to create snow sculptures for a top-secret storybook project. ...shhhh. On a personal note, he loves golf, archery, power tools, power toys and is the proud father of two boys and husband to the office girl, Jen.
TEAMWORK MATTERS:
Finding people who work well together is worth the work. We are all working together, creating a full circle. We're using what nature provides, sculpting its frozen form into something unexpected, then returning it to nature...while making the process in which that all happens our business, our family, our living. Thank you for supporting the art of life!
Ice Matters™!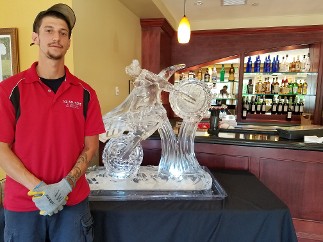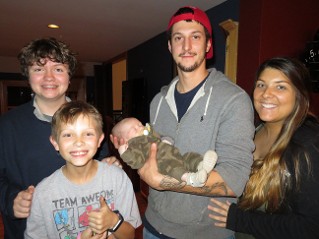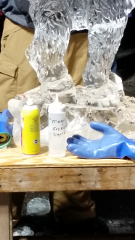 Mike Matters:
Master of set ups and fixing anything with zip ties, Mike is cool headed and keeps things running here at Ice Matters...and has started working on his carving skills, too! He keeps us laughing and is always willing to show our boys the ropes around the shop and has fun doing it. We are so excited that he is part of the Ice Matters™ family! Speaking of family....he is the proud dad of a charming pre-schooler. He loves spending what's left of his free time riding dirt bikes, golfing and having adventures! Shown above with his beautiful family and our boys when they met his adorable baby for the first time. Also pictured is a great example of his sense of humor hiding in plain sight on the carving table...oh, how he makes us laugh!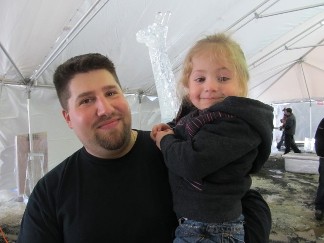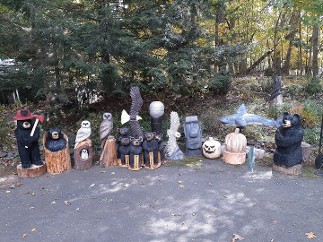 Matt Matters:
We are so grateful after working with Matt for so many years that he is still working for us when he can. Matt is the proud father to an adorable young lady. The cool giraffe sculpture he made at Lyman Orchards in 2014 is in the background and check out the examples of his awesome wood carvings. His wood carving business is called The Brookfield Carving Company - check it out!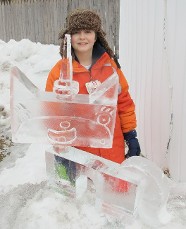 Liam Matters:
Our son, Liam is pictured here dressed in the Groot costume he made for Halloween in 2018. In addition to creating amazing costumes, Liam also enjoys customizing lego's, sketching, camping, target shooting, 3-d printing and playing D&D. He keeps busy with college, work and volunteers as an adult leader with the Scouts. He earned the rank of Eagle in 2020. He is pictured above, age 11, with his first ice carving, Uni-Kitty, and most recently, wearing his custom suit jacket for his first solo set up at a wedding he was attending!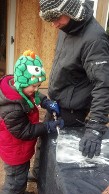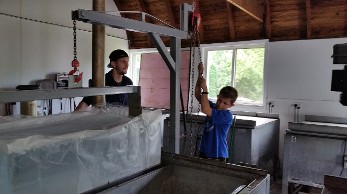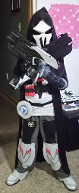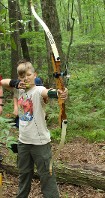 Joshua Matters:
Our son Joshua was eager to learn the ropes...so Mike showed him how to pull blocks. Also pictured above with the first time he got to use a chisel, age 6. In addition to helping with anything and everything, Joshua is also a creator of custom costumes - check out his cool Reeper from Overwatch he made for ComiCon. He also loves to game online with friends, play D&D, target shoot, camp and 3-d print. He stays busy with school, scouts and, track and volleyball.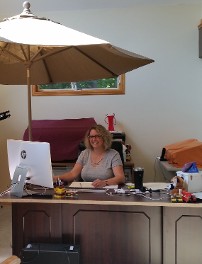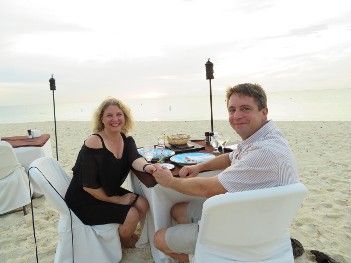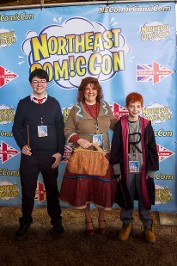 And here I am, the office gal/owners wife/mom, Jen, pictured in my office, taking time off in 2018 with my amazing husband on our 20th wedding anniversary and a fun weekend with the kids at a com event in 2019. Working from home can be noisy, but this is a family business and I do my best to take calls when the house is quiet...it is never a guarantee, but few things in life are :) I love my job and speaking with your amazing customers. My hours vary, based on the other hats I might be wearing at the time, back to the wife/mom part, but I do my best. I take one call at a time; the voicemail will pick up if I am on the other line. If you leave a message I will always call back. When I am not busy at work I enjoy completely unplugging, hiking, reading, crafting, camping (in nice weather), playing nine holes at my favorite par 3, mini golfing, playing Catan ("No one wants your stinking sheep" - I love to hate that game!), and organizing.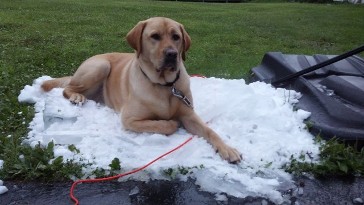 Morgan Mattered...RIP, Morgan:
Our sweet Morgan gave us eleven years of unconditional love and awesomeness.
He will always be remembered and is dearly missed.

Oakley Matters: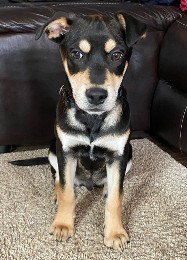 Who in their right mind gets a puppy at this stage in life? Crazy people like us! Okaley is a hot mess, but he is adorable and we love him. His favorite thing to do is edit things out of our house. Puppies. And that barking you hear when I am on the phone....well, that's our Oakley protecting us from anyone and everyone.

DEPENDABLE FRIENDS MATTER: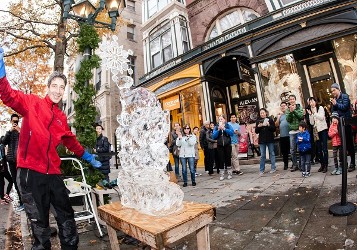 Gary Matters:
Gary has been a seasonal member of the Ice Matters™ team for years. Lucky us! His full time job is as a Chef Instructor here in CT and he freelances as a baker. He is married, with two children, hard working and forever a great guy to have around. We are lucky to have him share his talents and friendship with us!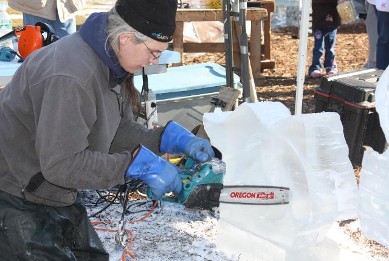 JP Matters:
JP is as awesome as he is tall! And he is the most optimistic person I know! He is a hard worker and is very talented in both the ice and culinary arena. He always surprises me with the things he knows and is always willing to share his knowledge and outlook on life! JP is a farmer, freelance ice sculptor and Chef, going where the business is. JP has worked with us for several years doing demonstrations and large projects...no one can pack a truck like JP! He has an awesome dog and is an awesome human.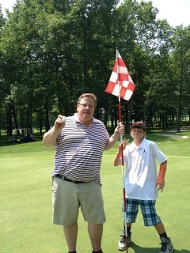 Erik Matters:
Erik, aka "Uncle E" grew up with Bill in Ridgefield, is an all around great guy and our best friend. He works as the Executive Chef at New Haven Country Club. Lucky members!!! He enjoys fishing and target shooting, but most of all he loves to golf - pictured here after getting a hole-in-one on a par 4 in June 2013 on the 8th hole at Fariview Farm! He also loves our kids and taco night! And we love him!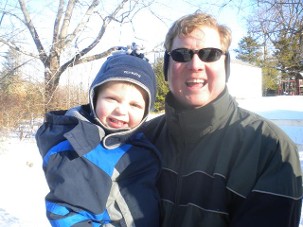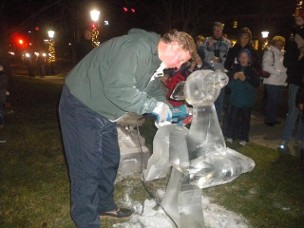 Tom Matters:
For us, Tom will always have 3 nicknames: "Master of the Angle Grinder", "King of the Freezer Drops" and "Fill in Dad". And even though those hats haven't been worn in a while, he is the best and is always just a phone call away. He is pictured here, some time ago, with our youngest son, back in his "Fill in Dad" phase and mastering the angle grinder at a demonstration. Tom is a husband to his awesome wife, father to his amazing daughter and owner of The Heritage Group, www.heritagegroupct.com.

OUR BIGGEST FAN MATTERS: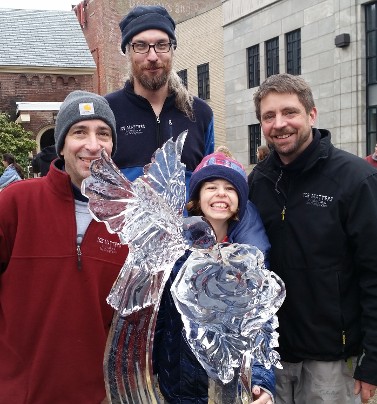 To order one of our Ice Sculptures or to inquire about our Ice Carving Demonstration services please call or e-mail Jen at ( 203) 271 - 3736 or icematters@netzero.com